Girls Golf Rocks reaches a fitting finale at North Wilts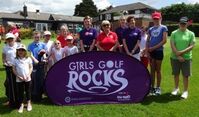 Girls Golf Rocks! That's the message from a group of 15 young Wiltshire girl golfers who have just recently been trying out the sport.
The message they gave out loud and clear in their GGR finale on a Par Three short course at North Wilts Golf Club is that golf is great fun and super way to meet other girls. Said one of the young participants from Chippenham 'We had a fab time, and its great to get to play on a proper course'. Another young player commented 'I can't wait until Saturday when I'll go down to the driving range with my dad'. Its clear that some of them are already hooked!
The campaign, led by the Golf Foundation and supported by England Golf started with taster sessions at 4 centres, namely Salisbury Golf Centre, Chippenham Golf Cub, Broome Manor Golf Complex and Bassett Down Golf Course & Driving Range. After that, a four-week structured coaching programme followed, provided by the clubs, with the county girl players mentoring the newcomers. The grand finale took place today, with the young players playing the game over 6 holes at a very sunny North Wilts.
Said Hazel Shewry (Captain of Wilts Ladies County Golf Association). 'Its great to see 15 new faces out there. They really enjoyed themselves, some hitting a golf ball on a course for the very first time. They have all received a certificate for taking part and for their efforts and I hear that some are already booking more lessons!'
The aim is that the girls will continue their interest in golf and in October, come and join girls already involved in golf at the County Junior Girls Assessment days. Sue Dix (acting Junior Organiser) also commented 'It would be great to see these girls feed into our Junior Development squads at the end of the year and become our golfers of the future.
It's hoped to extend the project across all of the County in 2018.
Some pictures from the day:-