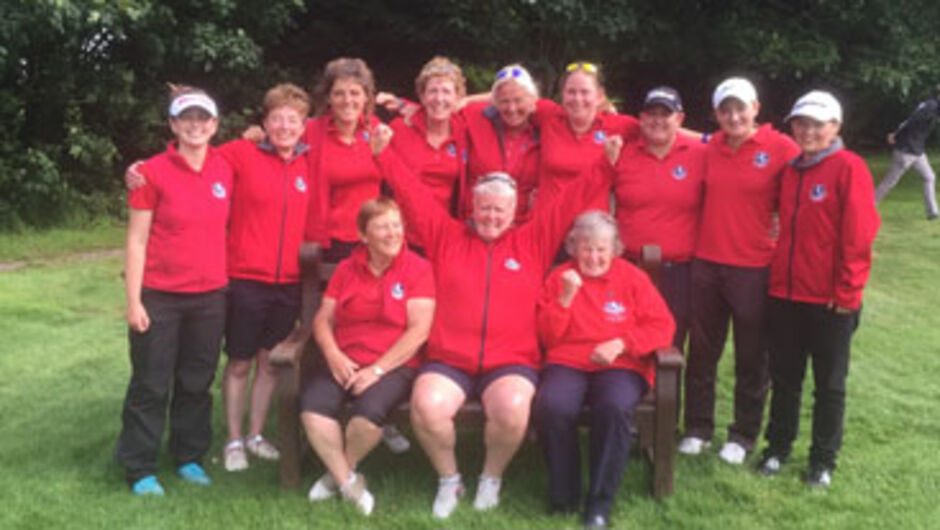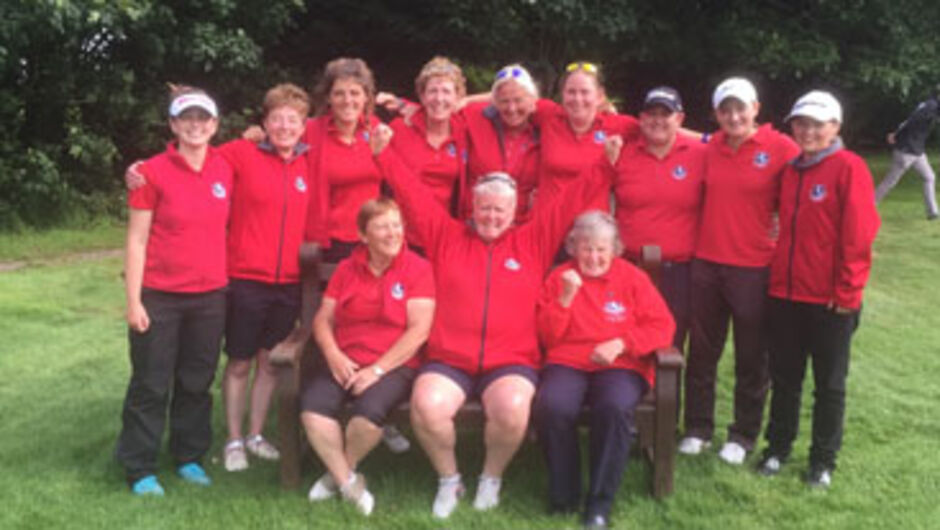 WILTSHIRE FINISH FOURTH.
BACK ROW - COURTNEY BOYES,ALI GRANDISONHANNAH STRADLING,KAREN GOSLING,KATIE DOVE-MEDOWS,ROXY ROBERTS,JO TERRY,ALEX PATTON,SEONA MAUCHLINE. FRONT ROW - HAZEL SHEWRY,CAROL MAIN,PAULINE HAWKINS
WILTSHIRE LADIES' FIGHTING PERFORMANCE

This year's Inter County Match Week was hosted by Somerset Ladies County Golf Association at the Mendip golf Club 4th - 8th July. Teams from Cornwall, Devon, Dorset, Gloucestershire, Somerset and Wiltshire pitted their strengths playing foursomes matches in the morning and singles in the afternoon.

The Mendip proved to be a superb venue both with challenging holes and fast, undulating greens notably the 18th which was very difficult to read! The quality of golf was of an exceptionally high standard throughout the week with many matches going to the last hole.

On Monday, Wiltshire narrowly lost to Dorset (5 - 4). This was followed by losses to both Cornwall (6 - 3) and Gloucestershire (7 - 2). However Thursday proved to be a spectacular day for Wiltshire with a great win over Devon (5 - 4). During her singles match, Chippenham's Ali Grandison holed-in-one at the 8th - a feat that hasn't been equalled in the memory of those present. Following on from this success Wiltshire played their hosts Somerset on the last day and went on to win the match (6 -3).

Gloucestershire once again were the overall winners and will go on to represent the SW region in the English Women's County Finals (12th - 16th September) at Waterlooville in Hampshire.
Wiltshire finished the week in a commendable fourth place. They demonstrated a great feeling of team spirit throughout the week supported and rallied on by their Captain Carol Main and President Pauline Hawkins who turned up every day with a different pair of wacky glasses…

At the Presentation Dinner, Carol Main thanked all her players and noted that next year's Inter Counties Week (to be held at Wrag Barn) promises to be very exciting. It will be a great opportunity for ladies from all over the County to come and support their team and see some excellent golf.
Ali Grandison gets hole in one on the 8th
Carol, Hazel & Paulin rallying support for the team